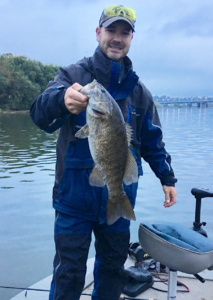 George DeFrehn was born in Johnstown, PA on September 28, 1975. One of his first memories was
going fishing with his grandfather and playing with the fish his grandfather caught in a 5 gallon bucket.
During those younger years George fished with his grandfather for Panfish and Trout learning the
importance of reading the water and accurate casts. It wasn't until he was 9 or 10 that his dad
introduced him to the Juniata and Allegheny Rivers. Although they didn't have a boat that made it all
the more fun to wade in the river and catch hellgrammites, stonecats and different types of river chubs.
George was addicted to river fishing immediately.
Although he never outgrew heading to his favorite trout streams to catch Wild Brookies, Browns and
Rainbows as he grew older he was able to drive to the river. There were many days spent fishing that
could have been spent in school. Bass and walleye were George's targets and he learned to find them
quite easily using his knowledge from his days on the trout stream as a way to read the water on the
river.
George moved to the Harrisburg Area in 1998 and began fishing the Susquehanna River. He purchased
his first boat in 2003 a 16 ft jon boat with a 25/20 Mercury Jet. Since then George has owned 3 different
river boats and currently uses an 18'6" Riverpro Dual Side Console with a 200 H.P. Inboard Mercury
Optimax Jet Drive for his trips to the river. He is a successful tournament angler with several victories up
and down the river. In 2015 George was the Capital City Bassmaster Angler of the Year. One of the
Pennsylvania's largest Bass Clubs at the time. He is currently a member of the Susquehanna River
Bassmasters.
George is a fully licensed and insured guide in Pennsylvania and truly loves being on the water. There
isn't a season of the year you won't see his boat on the water. He prides himself on being a well
rounded fisherman and can catch em even in the toughest of conditions. George loves to move around
during the day to find the most active fish so you can get the most out of your day on the water. He will
also make sure to cater to your experience level so the day can be a success for everyone.